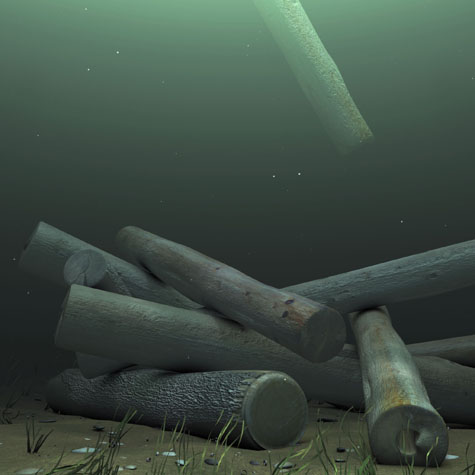 Rendered Still from Logjam Animation
Logjam
3D Animation, 24 minutes, 2010

This is a projected video installation, meant for viewing in a gallery setting. It was created as a result of my 2010 residency at the St. Croix Watershed Research Station at the Science Museum of Minnesota.

Logjam asks the viewer to contemplate the cyclical process of death and rebirth, while also discovering the calming effect of chaos. In order to accomplish this, I designed the animation to be studied like a moving painting that is meant to appear simultaneously solemn and hypnotic. 

A logjam is how a river communicates that it has lost its patience - that it has been pushed beyond its physical limitations as a source of life and power. It is a stopped moment in time – a point at which the river holds its breath in frustration before once again letting it out in a panicked frenzy of activity. But in the Logjam animation, that moment lasts forever, shifting back and forth repeatedly, between victory and defeat. By visually focusing on the historical relationship between the environment and the logging industry, my goal was to have the viewer question exactly what is truly dying in Logjam's continuous symbiosis between humanity and nature.